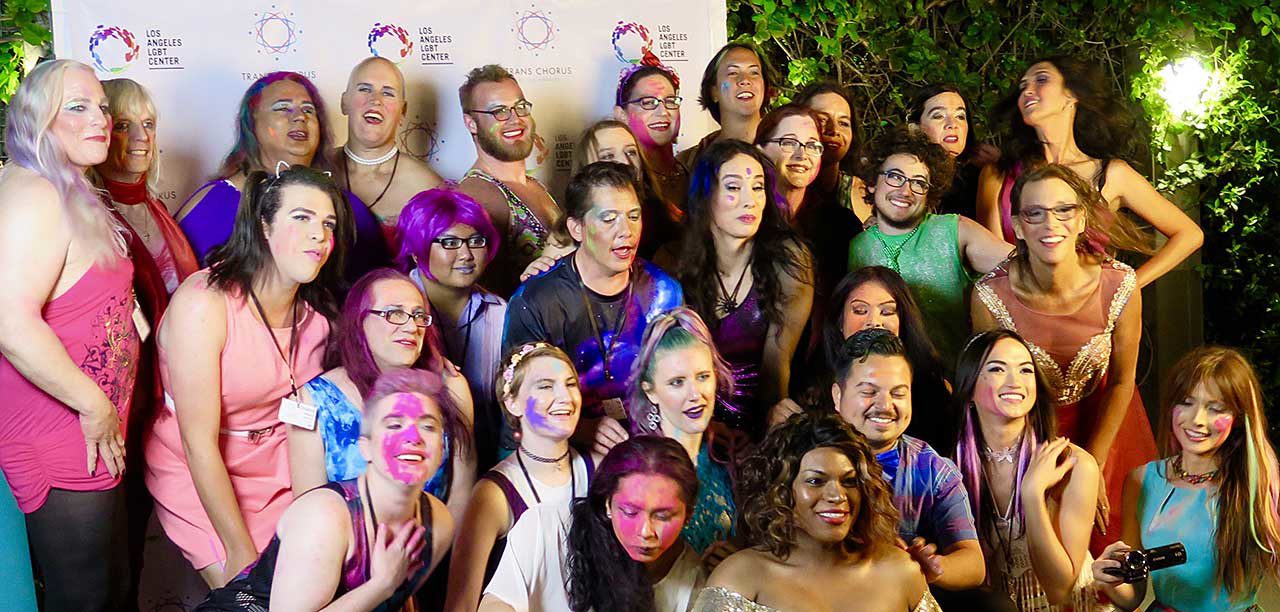 Gender Wellness of Los Angeles recently attended two very special events at the Los Angeles LGBT Center.  The first is a weekly event called Transgender Perceptions which is a support group for transgender and gender variant people. The facilitators are volunteers and the group welcomes everyone that identifies as transgender or gender non-conforming. On the first Friday of the month, significant others, friends, family and allies are invited to attend.
The Trans Chorus of Los Angeles (above) presented their production of The Rise and Fall of Ziggy Stardust and the Spiders from Mars at the Renberg Theatre. There are currently around 30 members from all walks of life and some are transitioning, some are not — and it doesn't really matter.
What we found so refreshing was the fact that everyone seemed to be having a great time. For many transgender people, especially transgender women, taking hormones does nothing to feminize the voice.  Unless the person is willing to spend the time and money to work on their voice, many feel self-conscious and prefer speaking as little as possible. Being in the chorus seems to present a forum to feel good about yourself and to use your voice and be authentic. There seems to be such nice support for one another that through the process, many friendships have developed.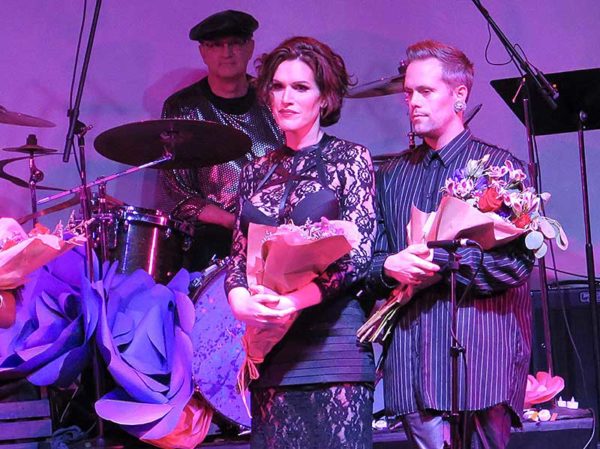 Guest performers of the evening were, Our Lady J and Justin Tranter (left). Our Lady J is a writer and producer on the Golden Globe and Emmy Award winning series Transparent. Justin Tranter is a musician, songwriter and a member of the Board of Directors of GLAAD. He has written hit songs for artists like Selena Gomez, Justin Bieber and Britney Spears.
It's comforting to know that in Los Angeles' transgender community, there are opportunities like these to gather in such a positive light. To find out more about the Trans Chorus, find them online at TransChorusLA.org or to make a donation, visit transchorusla.org/donate. Transgender Perceptions meets each Friday at 8 p.m. at the Center's Highland Campus located at 1220 Highland Ave, Los Angeles, CA  90038.
—GWLA