Transgender eye care is no more/no less a specialty for our community than it is for the cisgender population, however, there are some important things to consider when transitioning. Casey Weitzman has been referring her clients to optometrist Dr. Jonathan Gording in West Los Angeles for some time now. They've regularly raved about the care they've receive from Dr. Gording and his staff, so we reached out to him to get a little more info about this issue.
– – –
Transgender Eye Care: Sensitivity & Understanding is Paramount
Whether you visit an optometrist for routine eye exams or for the prescribing of contact lenses and glasses, every patient deserves to be treated in a warm and welcoming office. That's especially true and important for the transgender community who often risk subtle or not-so-subtle forms of discrimination for any service they seek. Patients need to feel comfortable with their doctor, one that treats every patient with dignity and respect.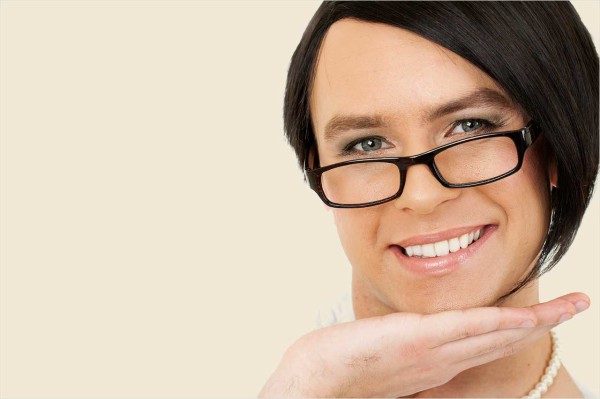 Dr. Gording says "Over time, we have come to appreciate some of the more subtle demands of the transgender community. During a patient's transitioning, we spend the extra time to help them understand the nuances of men's frame designs and women's frame designs."
Choosing frames can be a daunting task for many people, but for those of us who are addressing a new identity, the process can be that much more complicated. Identifying appropriate and flattering options for your (new) face and lifestyle is important, whether the frames are for business or casual use.
Dr. Gording says "We spend time explaining why some frames look better and fit better. While we always allow patients to make these choices in the privacy of an exam room, most patients feel comfortable making their selection at the desk in the dispensing area."
Transitioning is a time when many people in the process often consider contact lenses. Glasses can be something people hide behind, and contact lenses truly let people be seen. So, as you learn to reveal your true self to the world, this is often a route many of us choose. Dr. Gording can provide custom lenses that can be tinted or hand-painted to achieve a wide range of effects.
Transgender Eye Care: Medical Concerns
Medically speaking, it is well known that hormone replacement therapy effects tear production and tear quality. Patients are surprised to discover that they suddenly have dry eyes. Dr. Gording points out that "this is not true for every patient, but it can be quite dramatic in others. Fortunately, there are several treatment options for the dry eye patient, ranging from artificial tears to punctal plugs and Restasis."
—

Dr. Jonathan Gording is a third generation optometrist who is widely recognized for specialty contact lens fitting of hard-to-fit, daily wear, therapeutic, prosthetic, hand painted, custom tinted prosthetic, theatrical, and orthokeratology (ortho-k) contact lenses for myopia control. Dr. Jonathan Gording Optometry | 2035 Westwood Blvd Ste 101 | Los Angeles, CA 90025 |(310) 470-4289